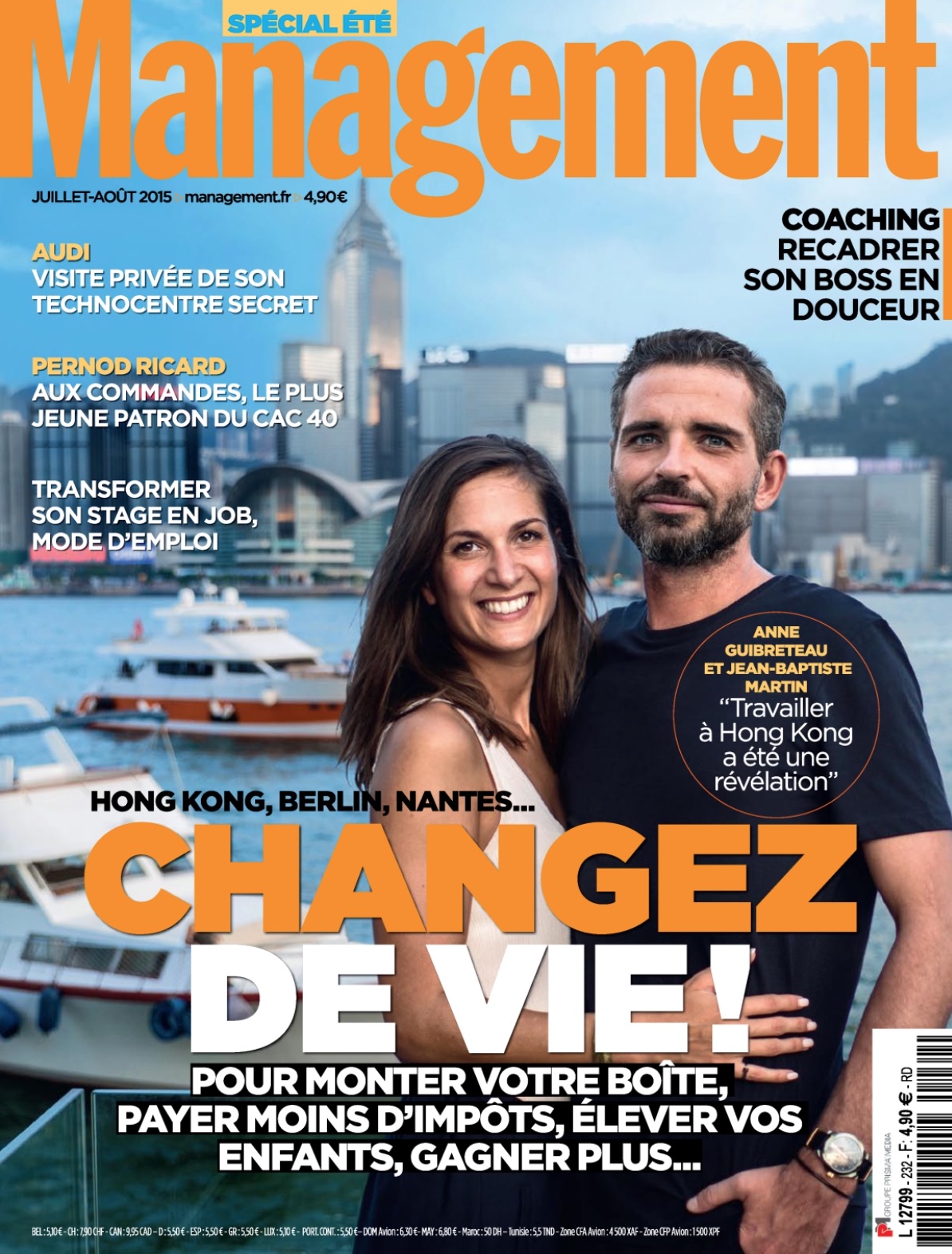 Pour accéder à la version française, clicker ici.
They were dreaming about it... They did it.
I was interviewed by Coralie Donas for the French magazine Management in their report : "Changez de vie"
Thanks to her for mentioning me.
Here is the english translation of the article.
THEY WERE DREAMING ABOUT IT... THEY DID IT.
Here are twelve brave individuals who cast off. They explain why they left and how they reinvented themselves.
And through the story of their successes and failures, they prove to us that, yes, it is possible to have a new start.
LIVING THE NOMADIC LIFESTYLE
Raphaël Harmel - All around the world
"I work and enjoy the beauty of the world."
Raphael works fifty hours a week on the app he created. But he can do it from anywhere in the world.
Since September 2014, Raphael Harmel, 37, has been living a dream: working while traveling. "I was inspired by blogs of digital nomads, web entrepreneurs who work while traveling the world. I had just launched my startup company, which made it possible for me to follow the same lifestyle." Engineer in informatics, he started Speecheo, a mobile application for lecturers, with two partners in 2012. Raphael then went off to the United States and to Lisbon to accompany the launching of his startup, chosen by Microsoft Ventures and Lisbon Challenge accelerators.
Since his work allows him to be location-independent, he decided to seize the opportunity to travel the world. "So, instead of returning, I started my round-the-world trip..."
To ensure a minimum income, this surf enthusiast started renting out his apartment in Paris. After two stops in Boston and New Orleans, he flew to Santa Cruz, California, and stayed at Outsite, both a residence and a coworking space on the Pacific.
But idyllic beaches do not prevent Raphael from being productive. Software that tracks his work time is clear: he works nearly fifty hours a week. A good internet connection is all he needs to do his job.
Incidentally, in Costa Rica, Brazil, Uruguay, Hawaii, and Bali, he met other digital nomads who, like him, decided to live differently through technology. Without a doubt, differences in time zones and distance complicate contact with his associates.
But this is not enough to deter Raphael: "This past year has truly been the most rewarding year of my life and I intend on continuing to live this lifestyle."
His advice
Take your time and stay at least one month in each country.
Follow and read Tim Ferris, a digital nomad guru.
---
Ils en rêvaient... Ils l'ont fait
J'ai été interviewé par Coralie Donas pour le magazine Management dans leur dossier: "Changez de vie".
Merci à elle de m'avoir mentionné.
Voici la transcription de l'article:
ILS EN REVAIENT... ILS L'ONT FAIT
Voici douze courageux qui ont largué les amarres. Ils nous expliquent pourquoi ils sont partis, comment ils se sont réinventés.
Et, à travers le récit de leur succès de leur échecs, nous prouvent que, oui, c'est possible de prendre un nouveau départ.
VIVRE EN NOMADE
Raphaël Harmel - Tout autour du monde
"Je travaille en profitant de la beauté du monde"
Raphaël travaille cinquante heures par semaine sur l'appli qu'il a créée. Mais il peut le faire depuis n'importe où dans le monde.
Depuis septembre 2014, Raphaël Harmel, 37 ans, vit un rêve: travailler en voyageant. «J'ai été inspiré par des blogs de digital nomades, ces entrepreneurs du Web qui bossent tout en parcourant le monde. Je venais de monter mon entreprise, c'était possible. » Ingénieur en informatique, il lance en 2012, avec deux associés, Speecheo, une application mobile pour conférenciers. Raphaël re rend d'abord aux États-Unis puis à Lisbonne pour accompagner le démarrage de sa start-up, choisie par les accélérateurs Microsoft Ventures et Lisbon Challenge .
Mais son travail ne nécessitant pas d'être dans un lieu particulier, il imagine pouvoir le faire depuis n'importe où. « Alors, au lieu de rentrer, j'ai commencé mon tour du monde…»
Pour s'assurer un minimum de revenus, ce passionné de surf met son appartement parisien en location. Après deux étapes à Boston et à la Nouvelle-Orléans, il s'envole vers Santa Cruz, en Californie, et se pose un temps à Outsite, un lieu à la fois résidence et espace de coworking au bord du Pacifique.
Mais les plages idylliques n'empêchent pas Raphaël d'être productif. Les logiciels qui "traquent" son temps de travail effectif sont formels : il s'échine près de cinquante heures par semaine. Une bonne connexion Internet suffit à son activité de développeur. D'ailleurs, partout, au Costa Rica, au Brésil, en Uruguay, à Hawaii, à Bali, il rencontre des nomades digitaux décidé, comme lui, à vivre autrement grâce à la technologie. Certes, le décalage horaire et la distance compliquent les contacts avec des associés également vadrouille.
Pas de quoi décourager Raphaël: « Cette dernière année a vraiment été la plus enrichissante de ma vie et j'entends bien continuer.»
Ses conseils
Prendre son temps et rester au moins un mois dans chaque pays. Suivre et lire Tim Ferris, gourou des nomades digitaux.